Testimonials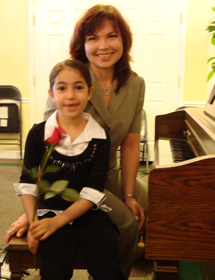 It is with great pleasure that I write this letter of recommendation on behalf of Natalya Vorobyeva. I have known Natalya for about five years. My daughter took piano lessons with Natalya for past 4 years.
Natalya as a teacher far exceeded my expectations. She was able to impact her enthusiasm and love of playing the piano onto my daughter. Natalya customized the music and lessons to her current skill level while at the same time providing challenges to keep the learning process going. I was able to observe the last ten minutes of most of my daughter's lessons. This is where I witnessed the wonderful connection that developed between teacher and student. Natalya is not only friendly and patient but also is good at gauging her student's level of knowledge and ability. Her commitment to her students is evident.
I respect Natalya for many of her qualities but most of all because she is able to connect with her students and customize their piano lessons according to their strengths. She is very positive, encouraging teacher, who is able to make confident self-motivated piano players out of her students.
I highly recommend Natalya as a piano teacher and am envious of her future students who can experience her contagious passion and love of music first hand.
-- Maia Lotfy, Concord,NC
---
My son Kyle has been taking piano lessons from Natalya Vorobyeva since this past winter. Natalya has been a wonderful music teacher for him. My son loves piano and looks forward to his lessons every week. He really likes Natalya and I have been very impressed with her capabilities. She has a very warm, patient and encouraging way of teaching children. When Kyle was getting a bit frustrated with learning his piano songs, Natalya took time to encourage him that he could do it, and put his lessons at a level that gave him more confidence. Natalya adjusted his lessons to his capabilities.
As a parent, I want my son to have a lasting fondness of music. Playing piano has opened that interest in my son. I believe having such a competent piano teacher as his first introduction to learning music has played a huge role in that!
--Kristin Pepe